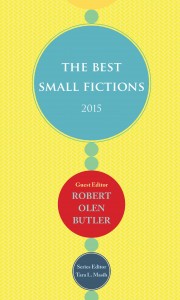 Two DimeStories were selected to be in this new anthology from Queensferry Press, The Best Small Fictions 2015: "By Heart" by Dee Cohen and "Mama Says" by Casandra Lopez.  Both stories  were originally published in   DimeStories: California, New Mexico, and Beyond!  a celebration of 10 years of DimeStories. 
From Queensferry Press:
It takes many small things to make something big. Fifty-five acclaimed and emerging writers—including Emma Bolden, Ron Carlson, Kelly Cherry, Stuart Dybek, Blake Kimzey, Roland Leach, Bobbie Ann Mason, Diane Williams, and Hiromi Kawakami—have made the debut of The Best Small Fictions 2015 something significant, something worthwhile, and something necessary. Featuring spotlights on Pleiades journal and Michael Martone, this international volume—with Pulitzer Prize–winning author Robert Olen Butler serving as guest editor and award-winning editor Tara L. Masih as series editor—is a celebration of the diversity and quality captured in fiction forms fewer than 1,000 words.
I am so proud of Dee and Cassie. Their stories are being published along with other great stories.  You can order your copy directly from the publisher.