DimeStories Audio
now browsing by category
Posted by:
JennAlbQ
| Posted on:
April 20, 2017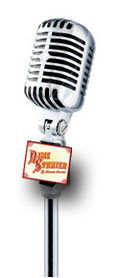 You wouldn't know it by the audio– or lack thereof of Dimestories posted on the website, but the Duke City DimeStories group is still going strong and there are tons of great writers in our midst and I have been remiss in posting our favorites. I hope my fellow DimeStoriers will forgive me for the delay… going back to November….
NOVEMBER 2016: We had an amazing group of listeners and readers and lots of really good stories to choose from. These were the standouts: "Rocket Chair" by Chris LaFleur, "No Need for Angels" by Sandra Valle, and "Mirage" by Tish Frederick
DECEMBER 2016: more great stories to choose from, our favorites included "Old Town Christmas Eve 1957" by Susan Paquet, "Old Dog Christmas" by Jessica Atcherly, and "Reruns" by Dee Cohen.
With the New Year came technical difficulties, a lost/garbled audio file and apologies….
No audio for January 2017.
FEBRUARY 2017 favorites included "The Great Flood, Pueblo Colorado, 1921" by Susan Paquet, "What's Missing?" by Terri Klein, and "Plucked" by Dee Cohen.
MARCH 2017 included a newcomer, a regular, and our emcee "Screamin' Mimi" by Uval, "When Meghan Eats Meat" by Iris Gersh, and "Pin the Tail" by Andy Paquet.