Please join us for SoCal Dime Stories Open Mic on Friday, April 14, 2017!  
                                  Refreshments and Sign Ups at 6:30, Readings at 7:00,                                   San Diego Writer's Ink, Liberty Station, San Diego
Guest Host: Judy Reeves!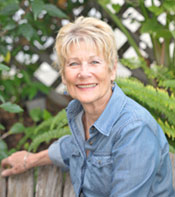 Judy Reeves is a writer, teacher and writing practice provocateur whose books include A Writer's Book of Days; Writing Alone, Writing Together; A Creative Writer's Kit and The Writer's Retreat Kit. Her work has also appeared in the San Diego Reader, The Frozen Moment, A Year in Ink, Vols I and 5 and other anthologies. Two plays, written with a women's writing ensemble, were produced in the Fritz Blitz. In addition to leading private writing workshops and retreats, Judy teaches at UCSD Extension and speaks at writing conferences internationally. A tenth anniversary Revised Edition of A Writer's Book of Days was named Best Nonfiction in the 2010 San Diego Book Awards.Her latest book is Wild Women, Wild Voices. Her website is judyreeveswriter.com She blogs at livelymuse.com.