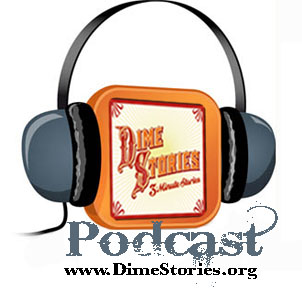 The DimeStories podcast features three 3-minute stories (read by the author) around a theme–kinda like This American Life, but much shorter, and sometimes fiction. And while we do not have Ira Glass, we do have the amazing Nicholas Thurkettle (writer, producer, audio wizard) and Jennifer Simpson (writer, producer, curator of stories) running the show.
Each episode runs about 15 minutes.
Listen here, or SUBSCRIBE to the DimeStories Podcast on iTunes.
Stories contributed by the amazing DimeStoriers who have been sharing their 3-minutes stories at open mic events and online since 2004.
Music by Scott Holmes; his work can be found at the Free Music Archive.
Co-produced and Co-hosted by Nicholas Thurkettle and Jennifer Simpson.
Heartfelt appreciation to Albuquerque DimeStorier Jessica Atcherley for helping catalogue all the audio stories in the archive.
Special thanks to San Diego Writers, Ink. and LCA Wine in Costa Mesa, Calif. for letting us use your space for our open mic events.