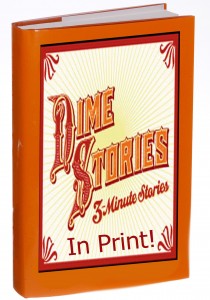 First of all, thank you to everyone who submitted  stories for consideration for the DimeStories in Print Anthology. As a fellow writer I know how hard it is to send your work out into the world. As the publisher and managing editor of this anthology (and the one who came up with the crazy idea to do this in celebration of our 10 Year Anniversary) my biggest task was to organize and coordinate all the Editors' responses.
Many of you who submitted have been regular supporters and participants at DimeStories open mics in California and New Mexico, many of you I know personally, and many of you were first time submitters which is why I thought it important to explain a bit about the process and how we came to the decisions.
First, I sent out press releases, emails to every writer I know, and (god help the internets) I tweeted, and came up with nearly 200 submissions. Stories were sent to the editorial board blind. In other words, I went through each page and deleted names as needed. (Note to Self: next time request submissions not contain identifying information!)
Stories were read by all four editors, who submitted their lists of stories to publish and stories to pass. I tallied and where necessary cast a deciding vote (in favor of publishing, because I'm a pushover and without an editorial board, I would have published ALL the stories).
Although knew this from my stint as managing editor at Blue Mesa Review, one thing that struck me again was how often the decision is about aesthetics…  With this project, what I realized was that sometimes a story just works better out loud.
All this to tell you that these are the stories we selected:
169 Words by Karen Stromberg
After, We Were Birds by Jennifer Simpson
Ain't No Ballerinas in Hip-hop by Jill Badonsky
Alchemical Storm by Michele McCormick
Betrayed by my own tongue by Jennifer Lang
Birch Whisper by Debbie Hagan
Blame It on Hammacher Schlemmer by Tara Masih
Bug Free by Lawrence Goeckel
By Heart by Dee Cohen
Dinner with Hades by Mary Morris
F.K.U. by Alex Bosworth
Flight Joel Peckham
Getting Wet by Ellen Yaffa
Hotel California Sylvester Cindy
In August When the Grapes Ripen by Judy Reeves
Jazz Train by Sara Henry
Judge Falcone's Funeral by Susan Paquet
Lifted by Dee Cohen
Little Miss Brown Ain't Got Nothing on Me by Janice Hightower
Mama Says by Casandra Lopez
Missing It by Seth Slater
Night Bloomer by Liz Zuercher
No Clouds For You by Liz Zuercher
Old Boyfriend by AnnaLee Wilson
Old Friend by Janet Clare
Picking Clementines at Night by Lisa Beebe
The Dress by Samantha Tetangco
The Last Goodbye by Ruth Roberts
Vigil by Carolyn Allport
Wanting by Molly Beer
I'm pleased to say that some of the contributors are DimeStories regulars from California and New Mexico, and some are just lovers of flash stories from other parts of the country and even from as far as Canada and Israel!
My goal is still to have the collection ready to celebrate our 10 Year Anniversary in October. Wish me luck!
–Jennifer Simpson