Odd Jobs
From the glamour of the circus to the mundane of grocery shopping…  for Episode 2 we have stories about work.
---
Louie Rodriguez, "Circus Came to Town"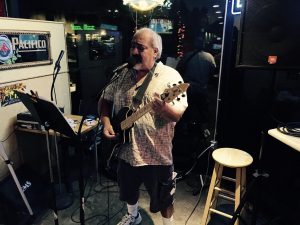 Bad Louie's main method of expression is as a songwriter- performer, playing a lively variety of 3 minute songs to convey tall stories and emotion. After living on a small rock in the middle of the Pacific, the Island vibe took a powerful hold and left him with a deep sense of Aloha musical style. Not a traditionally trained singer, he none the less growls with gravel. He's been called 'the bald headed stranger' for his Willie inspired gruff. Bad Louie has been a featured artist at a NAMM show booth for the past two years and relentlessly "makes" people listen to his songs up and down the California coast. His dream is to sell a song to a big time Artist so he can fill in the Royalties line on his tax return and not retire as an ASCAP urban camper, living in a van down by the river.
---
Efrain Villa, "Palpations for Fun and Profit"

Efraín is a photographer, actor, columnist, omnivore and global wanderer whose endless quest for randomness has led him to a mixed bag of careers, including: tourism marketing director for the great state of New Mexico, role player in police de-escalation trainings, and blogger for AimlessVagabond.com. While not running his consulting firm in Albuquerque, he is busy devouring exotic foods and avoiding adulthood while wearing the least amount of clothes possible… usually in faraway countries. Also, he sometimes writes.
---
Cheryl Sonstein, "Confessions of a Caregiver"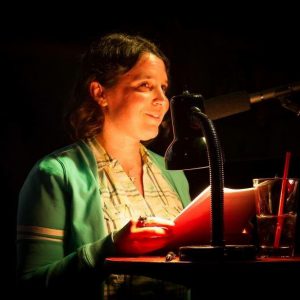 Cheryl is a Libra originally from Ambler, Pennsylvania. She now makes her home in the Normal Heights neighborhood of San Diego where she is delighted to take part in the many writing and storytelling opportunities offered by groups such as So Say We All, The Narrators and San Diego Writers Ink.
A Dime Stories attendee since 2014, she is currently on the committee to ensure this three minute storytelling open mic continues and prospers. (and we are grateful!)
---
Music by Scott Holmes, a composer and producer in Scotland, licensed with permission by the artist under a Creative Commons Attribution-Non-Commercial 4.0 International License.
Cosmic Shell Suit, Scott Holmes
©2016 by Scott Holmes

Sunday Funday, Scott Holmes
©2016 by Scott Holmes
Beat the Burglar, Scott Holmes
©2016 by Scott Holmes
Oceans Apart, Scott Holmes
©2016 by Scott Holmes
Another Rainy Day, Scott Holmes
©2016 by Scott Holmes